THE WORLD'S MOST VERSATILE SYNTHETIC OIL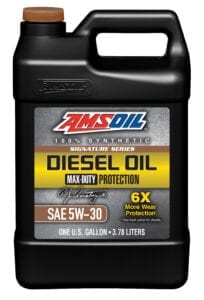 It presents broad application and the best in protection, performance, and convenience, helping mixed fleet managers simplify inventory. Its extended-drain ability beyond maximizes convenience and minimizes downtime for fleet managers with busy workloads.
Gasoline Vehicles, Diesel Vehicles, Small Engines, and Hydraulics
Signature Series 5W-30 Max-Duty meets the latest diesel and gasoline specifications. This included API CK-4 and API SN PLUS. It is backward-compatible, providing excellent protection in both new and old diesel and gasoline applications. The ultimate in convenience. It is also ideal for new and old small engines and hydraulic applications specifying an SAE 30 vyscocity.
Exceptional multi-use product – ideal for mixed fleets
6X more engine protection.
Delivers up to 60 percent better turbo cleanliness.
Meets specs that rival competition oils do not meet. This includes ACEA E6, MB 228.51, MAN 3677, MTU Type 3.1, Ford* WSS-M2C214-B1, Deutz* DQC IV-10LA and API SN PLUS
Combines the wear protection benefits of a 15W-40 with the fuel economy benefits of a 5W-30. Signature Series 5W-30 Max-Duty's low vyscocity minimizes drag associated with higher-vyscocity oils. This allows the engine to operate more freely, increasing power and fuel economy without sacrificing protection.
Low-phosphorus formulation offers excellent protection for catalytic converters.
Outstanding cold-temperature performance. (Pour Point: -43˚C [-45˚F])
Extra protection for extended.
Why Should I Upgrade To An API CK-4 Diesel Oil? (such as AMSOIL Signature Series or Heavy-Duty Synthetic Diesel Oil)
Diesel oils meeting the latest API CK-4 specification represent a serious upgrade in protection and performance compared to oils formulated for previous API diesel oil specifications. (like CI-4+ and CJ-4):
More piston-scuffing protection for decreased wear.
Better thermal control to resist oil thickening, aid in cooling and reduce wear.
Improved shear stability for maximum resistance against oil consumption and wear.
Superior aeration control, boosting oil-pump efficiency, wear protection and heat resistance.
Updated protection and lower cost than Series 3000 Synthetic Diesel Oil.