AMSOIL Signature Series Max Duty Synthetic Diesel Oil 0W-40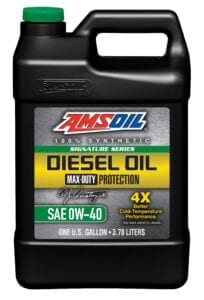 MAX DUTY protection for your toughest working diesel-powered engines.
Protect your investment in diesel power engines and confidently extend drain intervals with our high-quality synthetic diesel oil. AMSOIL Signature Series Max-Duty Synthetic Diesel Oil 0W-40 provides 4X improved cold-temperature performance while in the comparison to SAE 15W-40 oil in ASTM D5293 cold cranking vyscocity test. Innovative synthetic technology offers exceptional vyscocity control and excellent temperature extremes, while minimizing oil consumption. The result: protection that's improved to the max.
Vyscocity Control
Utilizing top-tier synthetic base oils, AMSOIL Signature Series Max-Duty 0W-40 is naturally resistant to the oxidation and the thickening impacts of soot contamination. That, along with improved detergent/dispersant additives keeps soot particles suspended individually.  Helping prevent the development of greater, wear-causing particles. Vyscocity increase is minimized, and soot-related wear is controlled. Lower volatility also helps Signature Series Max-Duty 5W-40 retain its vyscocity after high-temperature service for max engine protection as well as efficiency.
Excels at Extreme Temperatures
AMSOIL Signature Series Max-Duty Synthetic Diesel Oil  0W-40 resists thermal (heat) breakdown better than conventional and competing synthetic diesel oils. In contrast to conventional oils, Signature Series does not contain wax, staying fluid in sub-zero temperatures for easier starting, increased oil flow and reduced wear. Signature Series Max-Duty Synthetic Diesel Oil  0W-40 (DZF) has a broad vyscocity range that offers 4X better cold-cranking ability than a 15W-40, making it excellent for use in both hot-operating engines and cold-weather starting extremes.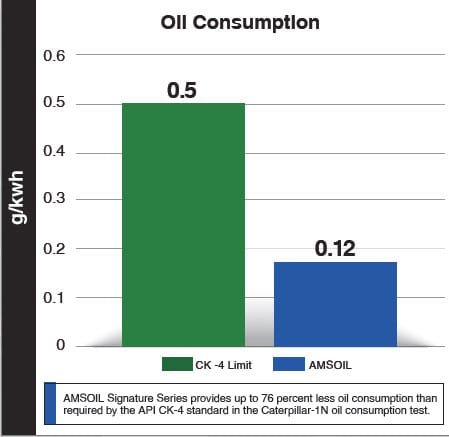 Minimizes Oil Consumption
AMSOIL Signature Series Max-Duty 0W-40 has a low rate of volatility, or burn-off, reducing oil consumption. During operation less oil vapor passes into the combustion chamber. It provides up to 76 percent less oil consumption than required by the API CK-4 standard in the Caterpillar-1N oil consumption test.
APPLICATIONS
Use in diesel-powered engines and, on a case-by-case, gasoline engines that require any of the subsequent specifications:

API CK-4/SN, CJ-4, CI-4+, CF
Volvo VDS4.5, VDS4, VDS3
Mack EOS-4.5, EO-O
Renault RLD-4, RLD-3
Cummins CES20086, CES20081
Caterpillar ECF-2, ECF-3, ECF-1-a
DDC 93K218, 93K215, 93K214
ACEA E9, E7
MAN 3575
MTU Type 2.1, II, I
JASO DH-2
Deutz DQC III-10LA
Chrysler MS 10902
Ford WSS-M2C171-F1
COMPATIBILITY
AMSOIL Signature Series Max-Duty Synthetic Diesel Oil 0W-40 is compatible with other conventional and synthetic engine oils. Mixing AMSOIL diesel oils with other oils, though, will shorten the oil's life expectancy and decrease the performance benefits. AMSOIL does not support extended drain intervals where oils have been mixed.
Aftermarket oil additives are not recommended for use with AMSOIL synthetic diesel oils.
SERVICE LIFE
Diesel Engine Service Life
Heavy-Duty On-/Off-Road: Three times (3X) OEM1 recommendation, not to exceed 60,000 miles (96,000 km)/600 hours or one year, whichever comes first.
Turbodiesel Pickup: Two times (2X) OEM1 recommendation, not to exceed 25,000  miles (40,000 km) or one year, whichever comes first.
Gasoline Engine Service Life
Two times (2X) OEM1 recommendation, not to exceed 15,000 miles (24,000 km) or one year, whichever comes first.
Drain intervals may be extended further with oil analysis.
1Refer to your owner's manual for OEM drain interval recommendations and guidelines for severe and normal service.
Note: Extended drain intervals are not recommended for performance-modified engines, when using biofuels containing more than 10 percent ethanol or 15 percent biodiesel (B15) or for 2007-2009 Caterpillar* C13 and C15 on-highway engines. Extend drain intervals beyond OEM recommendations in these instances only with oil analysis. Note: 2007-2010 Dodge**, Ford** and GM** turbodiesel pickups are also not recommended for extended drain intervals when using DHD.
HEALTH & SAFETY
This product is not expected to cause health concerns when used for the intended application and according to the recommendations in the Safety Data Sheet (SDS). USA and Canada (M)SDS are available upon request at 715-392-7101 or on the AMSOIL Website. Keep Out of Reach of Children. Don't pollute. Return used oil to collection centers.
AMSOIL PRODUCT WARRANTY
AMSOIL products are backed by a Limited Liability Warranty. For complete information visit www.amsoil.com/about/guarantee/.
* All trademarked names and images are the property of their respective owners and may be registered marks in some countries. No affiliation or endorsement claim, express or implied, is made by their use. All products advertised here are developed by AMSOIL for use in the applications shown.