Prolong Engine Life with Superior Oil Filtration
Advanced full-synthetic media makes AMSOIL Oil Filters stand out from the competition. Unlike conventional filters, these filters have the capacity to trap and hold more small particles that otherwise cause wear and tear in your engine. In addition, switching to AMSOIL will give you longer service intervals for greater convenience and less stress on your engine.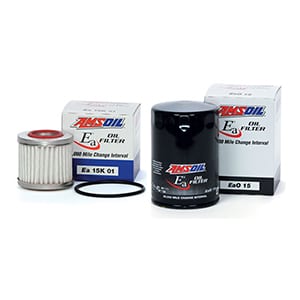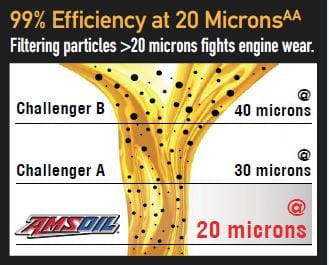 AMSOIL Oil Filters set the bar when it comes to efficiency in capturing contaminants. With a filtering efficiency of 99 percent at 20 microns according to ISO 4548-12 standards, they have one of the best ratings on the market! Whereas some competitors might claim similar efficiency ratings at larger sizes such as 30-40 microns, AMSOIL Oil Filters provide maximum protection by filtering out even the smallest particles.
The advanced design of AMSOIL Oil Filters means engines remain better lubricated at all times, thanks to the synthetic fibers used in their construction being much finer than those found in traditional filters. This results in lower restriction and improved oil flow, thereby decreasing engine wear even during cold-temperature warm-ups when reduced viscosity typically makes it harder for oil to pass through a regular cellulose filter.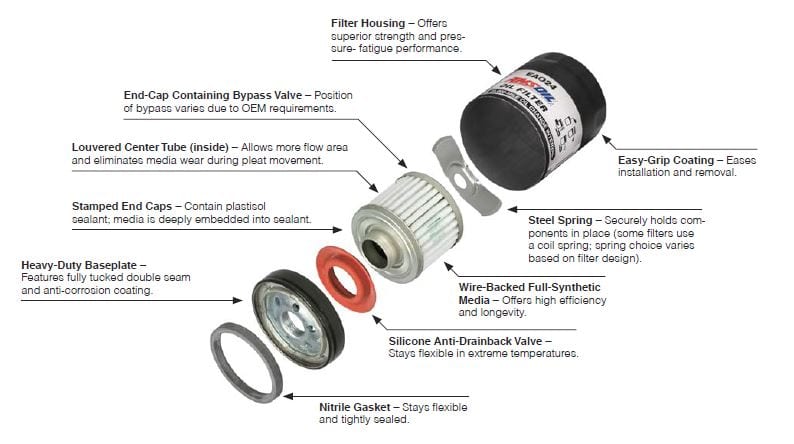 AMSOIL Car/Light Truck Filter Specification and Application Guide
AMSOIL Filter Number
Application
Style
Height

O.D.
Thread I/D
Gasket O.D.

Gasket I.D.
By-Pass
By-Pass Relief
Valve Pressure
Anti Drainback
Valve
EA15K01
Various Scion,Toyota, Lexus (08-20), Pontiac Vibe (09-10)
Cartridge
2.31
2.48
1.13
N/A
N/A
No
N/A
No
EA15K02
Various Toyota, Lexus (05-20)
Cartridge
2.7
2.8
1.12
N/A
N/A
No
N/A
No
EA15K03
Various GM, Saturn (01-17), Saab (03-12)
Cartridge
3.56
2.45

1.37
N/A
N/A
No
N/A
No
EA15K04
Lexus, Toyota Trucks, SUV models (07-20)
Cartridge
4.66
2.75
1.13
N/A
N/A
No
N/A
No
EA15K05
Various Volvo (04-15), Various Audi, VW (05-20)
Cartridge
4.92
2.51
1.22
N/A
N/A
No
N/A
No
EA15K06
Audi, VW (02-14), Hitachi, Linde
Cartridge
5.59
2.82
1.93
N/A
N/A
No
N/A
No
EA15K07
Various Hyundai, Kia (06-10)
Cartridge
5.16
2.89
1.53
N/A
N/A
No
N/A
No
EA15K08
BMW (96-09)
Cartridge
4.09
3.28
1.64

N/A
N/A
No
N/A
No
EA15K09

GM (85-09), Daihatsu (88-92), Infiniti (91-96), Kawasaki Mules,
Nissan (91-95), Buell (00-11), Toyota (80-20), Scion (04-09), AtlasCopco, Briggs & Stratton, Caterpillar, Cub Cadet, Generac, John
Deere, Kubota, New Holland, Pontiac Vibe (03-10), Toyota Avalon,
Camry, Corolla, Lexus (18-20)
Spin-on
2.69
2.68

3/4-16
2.47
2.2
Yes
11 to 17 PSI
Yes
EA15K12
Acura (88-05), Chevrolet (85-88), Dodge (91-96), Ford (88-97),
Honda (72-09), Hyundai (89-19), Isuzu (85-04), Kia (01-19), Mazda
(97-18), Mercury (87-96), Mitsubishi (89-98), Saab (05-06), Subaru
(87-19) Suzuki (09-13). Atlas-Copco, Case, John Deere, Kobelco,
Komatsu, Kubota, Onan, Toro, Yanmar Diesel, Renault, Cub Cadet,
Yanmar, John Deere, Kawasaki, Kobelco, Outboard Marine Engines,
Various ATV/ Motorcycle (00-12), Subaru 4EAT, R4AX-EL spin-on
transmission filter.
Spin-on
2.69
2.68
M20 X 1.5
2.47
2.2
Yes
11 to 17 PSI
Yes
EA15K13

Chrysler (92-06), Dodge (92-05), Eagle (92-98), Ford Probe (93-97),
Mazda (71-00), Mercury Villager (99-00), Mitsubishi (90-18), Saturn
(04-07), Various HD Equipment, Ford Probe (89-97), Mazda (83-96),
Kia Sportage (95-02), Polaris ATVs

Spin-on
3.35
2.67
M20 X 1.5
2.47
2.13
Yes
11 to 17 PSI
Yes
EA15K16
Volkswagen (98-06) w/ 1.9L, 2.0L Diesel
Cartridge
6.02
2.5
1
N/A
N/A
No
N/A
No
EA15K19
Chrysler,Dodge, Jeep, Ram (14-20)
Cartridge
6.17
1.99
0.91
N/A
N/A
No
N/A
No
EA15K20

Honda, Kawasaki Motorcycles + Industrial Engines, I-R, Honda (87-
12), Komatsu, Kubota, Kia (95-05), Mercury, Arctic Cat (06-12),
Polaris, Yamaha, Yanmar Engines, Infiniti-Nissan (96-20), : Acura (88-
05), Chevrolet (85-88), Dodge (91-96), Ford (88-96), Honda (72-09),
Hyundai (89-19), Isuzu (85-04), Kia (01-19), Mercury (87-91),
Mitsubishi (89-98), Subaru (87-20) Atlas-Copco, Case, John Deere,
Kobelco, Komatsu, Kubota, Onan, Toro & Yanmar Diesel, Other
Spin-on
3.08

3.11
M20 X 1.5
2.42
2.13
Yes
11 to 17 PSI
Yes
EA15K28
Various GM (99-17), Saab (06-12)
Cartridge
3.818
2.08
0.709
N/A
N/A
No
N/A
No
EA15K29
Daewoo (99-02), Chevrolet - GM Cars/Trucks (76-17), Saab (94-98)
Spin-on
3.4
2.95

M18 X 1.5
2.76
2.39
Yes
No
N/A
EA15K32
Various GM Cars & Trucks (75-76) (96-12) - Various Light Duty applications - Chevrolet, Buick, Cadillac (75-12)
Spin-on
3.4
2.96
13/16-16
2.76
2.39
No
N/A
Yes
EA15K35
Various GM, Saturn (07-20)
Cartridge
4.17
2.24
0.87
N/A
N/A
No
N/A
No
EA15K37
Various Dodge, Chrysler, Jeep w/ 3.6L Pentastar engine (11-13), VW
Routan (11-12)
Cartridge
5.43
2.03
0.85
N/A
N/A
No
N/A
No
EA15K38
Various Ford, Mercury (03-12), Mazda (03-12)
Cartridge
2.91
2.58
1.1
N/A
N/A
No
N/A
No
EA15K39
Chrysler Crossfire SRT-6 (05-07), Various Mercedes (05-15), Sprinter
Vans (07-09)

Cartridge
4.53
2.54
1.24
N/A
N/A
No
N/A
No
EA15K43
Ford Edge, Fusion, F150, Lincoln (15-20)
Cartridge
5.35
1.95

0.85
N/A
N/A
No
N/A
No
EA15K49
Various Lexus, Toyota (06-20)
Cartridge
3.29
2.81
1.12
N/A
N/A
No
N/A
No
EA15K50
Various Buick, Chevrolet, GM, Hummer, Saturn, Saab, Dodge,
Chrysler, Jeep (07-20), Alfa Romeo
Spin-on
3.4
2.96
M22 X 1.5
2.76
2.39
Yes
18 to 24 PSI
Yes
EA15K51

Various Chrysler/Dodge/Jeep (82-11), Various GM, Saturn (85-07),
Lexus (90-10), Saab (67-09), Suzuki (86-08), Toyota (88-20), Various
Ford, Lincoln, Mercury (03-20), Land Rover (12-18), Mazda (05-18),
Yugo (86-89), VW (09-11) Various Lawn&Garden, Farm, HD
Equipment. Massey-Ferguson, Toro, Transicold Refrigeration Units

Spin-on
3.4
2.96
3/4-16
2.76
2.39
Yes
11 to 17 PSI
Yes
EA15K53

Various Lawn & Garden Equip. + Small Tractors w/Briggs & Stratton,
Hatz, Kawasaki, Kohler, Lister Engines
Spin-on
2.66
2.97
3/4-16
2.76
2.39
Yes
11 to 17 PSI
Yes
EA15K54
Various BMW models (05-20) - with heat exchanger
Cartridge
3.11
2.89
1.67
N/A
N/A
No
N/A
No
EA15K88
Ford Trucks w/ 6.0L Diesel Engine (03-07), 6.4L Diesel (08-10), IHC
VT365 Diesel Engine, IHC School Buses
Cartridge
6.54
3.34
1.52
N/A
N/A
N/A
N/A
N/A
EAO11
Ford/Lincoln/Mercury (91-20), Mazda (00-09), Cadillac STS-V, XLR-V
(06-09) 6.6L Duramax Diesel (20)
Spin-on
3.75
3.65
M22 x 1.5

2.81
2.42
Yes
11 to 17 PSI
Yes
EAO15

Chrysler Family of Cars/Trucks (57-70), Ford Family of Cars/Trucks
(57-00), Mazda Trucks (94-00), Toyota Landcruiser (71-96), various
HD applications, Audi (95-06), Volkswagen (77-00, 05)

Spin-on
5.37
3.65
3/4-16
2.81
2.42
Yes
11 to 17 PSI
Yes
EAO17
Ford, Lincoln, Mercury, Mazda (09-20), Various Dodge, Jeep, Ram,
Mitsubishi (09-13), Various GM (11-20)
Spin-on
4.45
2.96
M22 X 1.5
2.76
2.39
Yes

18 to 24 PSI
Yes
EAO23
GM Cars + Trucks (80-05), Mercruiser, Volvo-Penta
Spin-on
4.75
2.96
M18 X 1.5
2.76
2.39
No
N/A
Yes
EAO24
Chevrolet/GMC Trucks (91-06), Hummer (93-06)
Spin-on

5.37
3.67
13/16-16
3.46
3.08
No
N/A
Yes
EAO26
Ford Trucks, Massey-Ferguson Tractors, Oliver Tractors, VW Eurovan
(93-96) & (01-04.) Bussing, Case, Caterpillar, Iveco, Massey-Ferguson, & Perkins Engines
Spin-on
6.77
3.66
3/4-16
2.81
2.42
Yes
11 to 17 PSI
Yes
EAO34
Ford/Lincoln/Mercury (81-09), Chrysler/Jeep/Mitsubishi (02-09),
Various Mazda (94-16), Various Industrial Equipment, Audi, VW,
Seat (95-12), BMW (82-94), Mercedes-Benz (85-93)
Spin-on
4.75
2.98
3/4-16
2.76
2.39
Yes
11 to 17 PSI
Yes
EAO42
Chrysler/Dodge/Jeep Vehicles (91-10), Mitsubishi Eclipse (95-99),Caterpillar Equipment, Freightliner, KUBOTA HH1CO32430 and various HD applications
Spin-on
3.75
3.68
3/4-16
2.81
2.42
Yes
11 to 17 PSI
Yes
EAO52
Chev-GMC Vehicles w/ 6.6L Duramax Diesel (01-19)
Spin-on
5.37
3.69
13/16-16
3.48
3.08
Yes
11 to 17 PSI
Yes
EAO55
Various Audi, VW (06-20)
Spin-on
5.63
3.02
27 X 1.5mm

N/A
N/A
Yes
22 to 28 PSI
Yes
EAO55
Various Audi, VW (06-20)
Spin-on
5.63
3.02
27 X 1.5mm

N/A
N/A
Yes
22 to 28 PSI
Yes
EAO64
AMC (82-86), Buick (80-11), Cadillac (81-11), Chevrolet, GM (99-12), Saturn (93-10), Jeep (81-86), Isuzu (03-09), Saab (06-09)
Spin-on
4.45
2.96
13/16-16
2.76
2.39
No
N/A
Yes
EAO80

Cummins 5.9L "B" Series Eng, Dodge PU w/Diesel Eng. (89-02), Various HD Equip. Dodge Pickups w/ 5.9L Cummins Diesel, "B"
Series Eng. (03-10), 6.7L Cummins Diesel (08-20), Ram 2500/4500
(11-20)

Spin-on
6.87
3.67
1-16
2.81
2.42
No
N/A
No
EAO98
Ford F-Series Super Duty PU w/ 6.7L diesel (11-20)
Spin-on
6.61
3.65
1-16
2.81
2.42
Yes
N/A
No
EAO99
Ford/IHC Trucks w/7.3L Turbo Diesel (94-03)
Spin-on
7.96
4.28
1 1/2-16

4
3.63
No
N/A
No