AMSOIL XL SAE 10W-40 Synthetic Motor Oil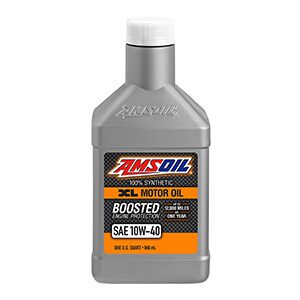 Extra Protection for Extended Oil Life
AMSOIL XL Synthetic Motor Oil is the choice for individuals who wish to give their car extra. Its enhanced formulation provides increased cleaning power, superior wear control, superior high- and low-temperature protection, and improved fuel economy. XL is designed for advanced automotive technology, such as turbos and direct injection. It comes with increased engine protection, allowing you to go up to 12,000 miles or one year between oil changes, whichever comes first.
See the Product Data Bulletin for full details.
Resists Oil Breakdown
Under the most extreme conditions, XL Synthetic Motor Oil maintains its fluidity (viscosity). After extended durations of high-temperature operation, some oils degrade and viscosity increases considerably. Excessive oil consumption, engine deposits, faster wear, and problematic cold-starts can all result from these alterations. The GM Oxidation and Deposit (GMOD) Test involves running a 5.7L V8 engine for 100 hours at 293°F (100°F hotter than normal). These extreme working circumstances put an oil's capacity to control viscosity, deposits, and consumption to the test. AMSOIL XL Synthetic Motor Oil was found to give 64 percent more protection against oil breakdown1 than the GM dexos1® Gen 2 specification, ensuring protection in high temperatures.
1Based on independent testing of AMSOIL XL 5W-30 motor oil in the GMOD engine test required for the GM dexos1 Gen2 specification.
Protects Engines From Low-Speed Pre-Ignition
The unique chemistry of XL Synthetic Motor Oil has been proven to safeguard your engine from the detrimental effects of low-speed pre-ignition (LSPI). LSPI is the spontaneous ignition of the fuel/air mixture before spark-triggered ignition. The majority of new engines use gasoline direct injection (GDI), combined with a turbocharger. LSPI incidents, which can ruin pistons and connecting rods, are more likely as a result of these technologies. Protecting your engine from LSPI requires the use of a properly formulated motor oil.
Original equipment manufacturers (OEMs) such as General Motors (GM) have addressed the problem by developing tests to determine the effectiveness of a motor oil to prevent LSPI. XL Synthetic Motor Oil achieved 100 percent protection against LSPI2 in five consecutive testing, with zero incidences.
2Based on zero LSPI events in five consecutive tests of AMSOIL XL 5W-30 Motor Oil in the LSPI engine test required by the GM dexos1 Gen 2 specification.
KEEPS ENGINES CLEAN
AMSOIL XL Synthetic Motor Oil  contains detergent and dispersing additives. Its enhanced additive package effectively raises the total base number (TBN) to neutralise acids while also resisting sludge, corrosion, and carbon deposits. XL provides 25% more cleaning power, allowing your engine to operate smoother and longer.
3vs. AMSOIL OE Motor Oil.
Reduces Maintenance
AMSOIL XL Synthetic Motor Oil provides increased engine protection for drivers, company owners, and fleet managers. Oil changes on a regular basis are costly, time-consuming, and inconvenient. If you wish, the extra protection built into XL can give prolonged drain intervals up to 12,000 miles or one year, allowing you to change oil on your own schedule, save money, and reduce waste oil.
Maximizes Fuel Economy & Maintains Low Emissions
XL Synthetic Motor Oil  is licensed by the American Petroleum Institute (API) that it meets and exceeds the specifications listed in most owner's manuals. It performs well in fuel economy testing, obtaining the API's "Resource Conserving" designation. XL is also friendly to modern emissions control systems, promoting appropriate catalytic converter performance for optimum service life and low emissions.
This is applicable to XL 0W-20, 5W-20, 5W-30 and 10W-30 motor oil.
APPLICATIONS
Use in gasoline-powered engines that require any of the subsequent specifications:

API SP, SN PLUS, SM...; ACEA A3/B3, A3/B4
COMPATIBILITY
AMSOIL XL Synthetic Motor Oil is compatible with other synthetic conventional motor oils. However, mixing other oils with AMSOIL motor oils can lower the oil's life expectancy and performance benefits. Where oils have been combined, AMSOIL does not recommend extended drain intervals.
Aftermarket oil additives are not recommended for use with AMSOIL synthetic diesel oils.
SERVICE LIFE
AMSOIL XL Synthetic Motor Oil is recommended for gasoline-fueled cars with oil change intervals of up to 12,000 miles per year, or longer where specified in owner's manuals or indicated by electronic oil life monitoring systems. Regardless of the filter brand, change the oil filter at every oil change.
AMSOIL Oil Filters stop smaller particles, flow more oil and last longer than regular filters. For best performance, use AMSOIL Oil Filters.
HEALTH & SAFETY
This product is not expected to cause health concerns when used for the intended application and according to the recommendations in the Safety Data Sheet (SDS). USA and Canada (M)SDS are available upon request at 715-392-7101 or on the AMSOIL Website. Keep Out of Reach of Children. Don't pollute. Return used oil to collection centers.
AMSOIL PRODUCT WARRANTY
AMSOIL products are backed by a Limited Liability Warranty. For complete information visit www.amsoil.com/about/guarantee/.
* All trademarked names and images are the property of their respective owners and may be registered marks in some countries. No affiliation or endorsement claim, express or implied, is made by their use. All products advertised here are developed by AMSOIL for use in the applications shown.
Please Note: AMSOIL XL SAE 10W-40 XLO is discontinued in Canada, and only available while supplies last.  Canadian customers can use AMO or ZRD