AMSOIL Signature Series SAE 10W-30 Synthetic Motor Oil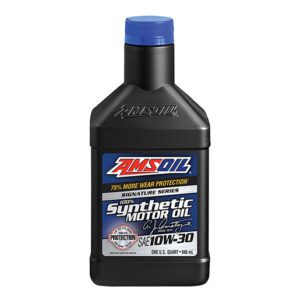 Signature Series Protection for Every Day Gasoline Vehicle Needs
The AMSOIL Signature Series line of gasoline engine oils are engineered for vehicle enthusiasts who are looking for maximum protection and performance in their every day vehicle. The SAE 10W-30 motor oil features a precision formula crafted using cutting-edge technology and a longstanding devotion to making the world's best motor oil. The result: protection for your vehicle's engine that blows the doors off the highest industry standards and any other brand of motor oil.
See the Product Data Bulletin for full details.
FIGHTS ENGINE WEAR
75 percent more engine protection against horsepower loss and wear1 than required by the industry standard, extending the life of vital components like pistons and cams.
Develops a strong fluid film that keeps metal surfaces separated.
Robust anti-wear additives further reduce wear in metal-to-metal contact regions for maximum engine life.
1Based on independent testing of AMSOIL Signature Series 0W-20, in ASTM D6891 as required by the API SN specification.
Vyscocity Control
Utilizing top-tier synthetic base oils, AMSOIL Signature Series SAE 10W-30 is naturally resistant to the oxidation and the thickening impacts of soot contamination. That, along with improved detergent/dispersant additives keeps soot particles suspended individually. This helps to prevent the development of greater, wear-causing particles in your vehicle's engine. Vyscocity increase is minimized, only increasing by 0.1% in standard tests. Even with double length tests, SAE 10W-30 delivered twice the vyscocity control required by standards. Also, soot-related wear is controlled. Due to lower volatility, Signature Series SAE 10W-30 retains its vyscocity after high-temperature service for max engine protection and efficiency.
CLEAN ENGINES FOR OPTIMAL PERFORMANCE
Formulated with superior thermal durability that resists breakdown and keeps pistons clean.
Controls heat and minimizes performance-robbing deposits.
Maximizes engine life and performance.
---
Helps Keep Engines Cleaner
Signature Series is fortified with a heavy treatment of detergent additives, delivering 28 percent more acid-neutralizing power than Mobil 1* and helping engines stay cleaner, longer.LL
LLBased upon independent testing of Mobil 1 Annual Protection Full Synthetic 5W-30 and AMSOIL Signature Series 5W-30 in ASTM D2896. Oils purchased July 2020.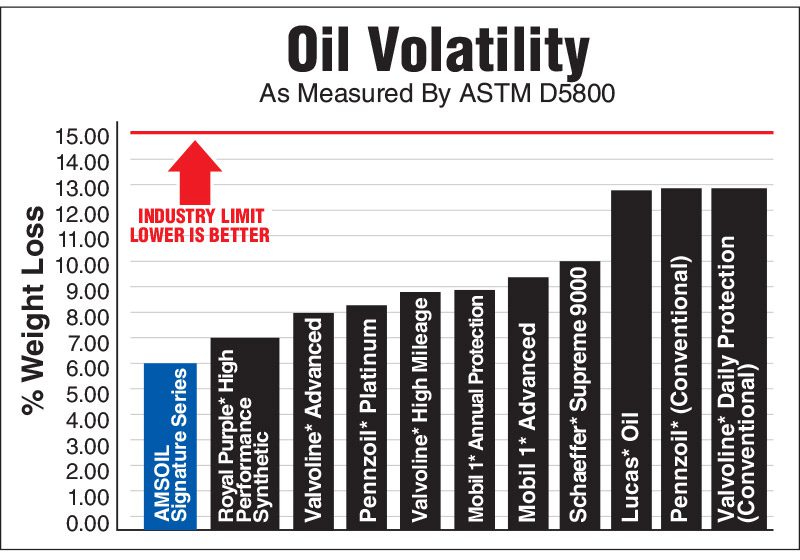 Minimizes Oil Consumption
AMSOIL Signature Series SAE 10W-30 fights volatilityU 38% better than Mobil 1* and 17% better than Royal Purple,* helping reduce oil consumption and keep valves clean.
UBased on independent testing of AMSOIL Signature Series Synthetic 5W-20, Mobil 1*Advanced Synthetic 5W-20, Royal Purple* High Performance Synthetic 5W-20, Valvoline* Advanced, Pennzoil Platinum*, Valvoline* High Mileage, Mobil 1* Annual Protection, Schaeffer's* Supreme 9000, Lucas* Oil, Pennzoil (conventional) and Valvoline* Daily Protection (conventional) in ASTM D5800. Oils purchased October-November 2018.
APPLICATIONS
Use in gasoline-powered engines that require any of the subsequent specifications:

API SP (Resource Conserving), SN PLUS, SN…;
ACEA A5/B5, A1/B1;
Ford WSS-M2C205-A;
Chrysler MS-6395;
GM LL-A-025, 6094M, 4718M;
ILSAC GF-6A, GF-5, GF-4…
COMPATIBILITY
AMSOIL Signature Series SAE 10W-30 is compatible with other conventional and synthetic engine oils. Mixing AMSOIL diesel oils with other oils, though, will shorten the oil's life expectancy and decrease the performance benefits. AMSOIL does not support extended drain intervals where oils have been mixed.
Aftermarket oil additives are not recommended for use with AMSOIL synthetic diesel oils.
SERVICE LIFE
Normal Service – Up to 25,000 miles (40,200 km), 700 hours of operation or one year, whichever comes first, in personal vehicles not operating under severe service.
Severe Service – Up to 15,000 miles (24,140 km), 700 hours of operation or one year, whichever comes first. Severe service conditions include commercial or fleet vehicles; excessive idling; or frequent towing, hauling, plowing or driving in dusty conditions.
Modified engines (non-stock), racing vehicles and vehicles using alternative fuels (E85, CNG, propane, etc.) are excluded from extended drain interval recommendations.
Change at the vehicle manufacturer's recommended drain interval outside U.S. and Canada.
AMSOIL Oil Filters are designed for extended drain intervals. Do not exceed 12,000 miles (19,312 km) or one year with other brand filters unless longer intervals are recommended by the vehicle manufacturer. Always change filter when changing oil.
Check oil regularly to maintain proper fill levels.
AMSOIL Oil Filters stop smaller particles, flow more oil and last longer than regular filters. For best performance, use AMSOIL Oil Filters.
HEALTH & SAFETY
This product is not expected to cause health concerns when used for the intended application and according to the recommendations in the Safety Data Sheet (SDS). USA and Canada (M)SDS are available upon request at 715-392-7101 or on the AMSOIL Website. Keep Out of Reach of Children. Don't pollute. Return used oil to collection centers.
AMSOIL PRODUCT WARRANTY
AMSOIL products are backed by a Limited Liability Warranty. For complete information visit www.amsoil.com/about/guarantee/.
* All trademarked names and images are the property of their respective owners and may be registered marks in some countries. No affiliation or endorsement claim, express or implied, is made by their use. All products advertised here are developed by AMSOIL for use in the applications shown.