NEW OIL TECHNOLOGY REQUIRED TO PREVENT SUPER KNOCK (LSPI)
A potentially disastrous problem is appearing in today's engines. Here is how AMSOIL has been working to solve it.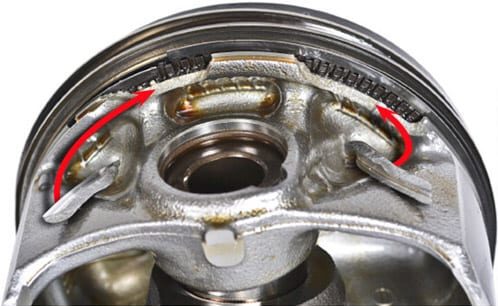 WHAT IS LSPI?
LSPI is a different version of engine knock. It has been around since engines were created. In this instance, it happens under low-speed, high-torque circumstances that are in turbocharged gasoline direct-injected engines. It is more destructive than typical engine knock.
Under normal operating conditions, spark-triggered ignition is timed to work in conjunction with the downward piston energy. LSPI is what happens when an oil/fuel droplet hiding in the piston crevice releases into the combustion chamber and detonates the fuel/air mixture too early. The ensuing force clashes with the upward moving piston and could result in damage. Like that on the piston shown.
Original equipment manufacturers (OEMs) have been aggressively reducing engines to meet rigorous fuel-economy and emission requirements. At the same time improving power and torque. Most new engines today use any combination of turbochargers, direct-fuel injection and variable valve timing. Doing this to produce more power than their larger counterparts while providing improved fuel economy. This scenario appears to be like all up-side for drivers. But today's smaller, hotter-running engines present considerable challenges to lubricants. The latest is a phenomenon known as low-speed pre-ignition (LSPI), also known as "super knock," which can destroy pistons and connecting rods.
Car manufacturers know this is an issue and have programmed motor vehicle software to prevent LSPI-inducing conditions. Doing so, though, limits fuel efficiency. To extract the most efficiency from their engines, OEMs will soon apply software updates that will raise the risk of LSPI. After the software installation, engines without the safeguard of a motor oil formulated to fight the LSPI will be at greater risk of serious damage. AMSOIL has been hard at work getting ready for these future OEM updates.
Demonstrating it can protect turbocharged direct-injected engines, AMSOIL attained 100% protection against LSPI in the engine test required by the GM dexos1® Gen 2 specification.
The complete AMSOIL motor oil lineup has been upgraded to meet these new challenges.