Max-Duty Synthetic Diesel Oil
Vyscocity Inc provides the finest Max-Duty synthetic diesel oil for businesses and vehicle enthusiasts. Come to us for oil that will keep your engine in top shape and work in conjunction with your fuel, whether you get this from something like a diesel delivery service or drivers fill up whilst on the road. The top tier of AMSOIL protection and performance for diesel engines. Provides 6X more engine protection.
You Need High-Quality Engine Oil
Whether you're the proud owner of your own big rig or a business owner who oversees a fleet of heavy-duty trucks, two things can be of extreme importance to you - quality fuel and engine oil. With a bulk fuel delivery company to service your needs of diesel drums or any other fuel for that matter, you don't need to be concerned about fuel availability, quality, or price. Once the fuel requirements are met, you might want to make sure the vehicle has an engine that can meet high-performance standards. And, of course, if you do have a commercial fleet, you will want to make sure that you have the relevant Fleet insurance for HGVs and Lorries that you need in order to ensure that your vehicles are protected whilst they are on the road.
Engine troubles often begin when one of its many moving parts start to fail, which, in turn, can begin when parts undergo stress and begin to wear. The best way to ensure that everything functions as smoothly as possible is to ensure that your engine parts are properly lubricated with high-quality engine oil, such as AMSOIL's Max-Duty Diesel Oil 15W-40.
AMSOIL Max-Duty Synthetic Diesel Oil
AMSOIL creates the best synthetic diesel oil with the needs of your vehicle in mind. As an official supplier and retailer of AMSOIL diesel engine oils and fuel products, Vyscocity Inc provides a large variety of AMSOIL products, including synthetic diesel oils that you can purchase online.
If you want a motor oil or engine oil that will support your diesel engine throughout its lifespan, consider Max-Duty Diesel Oil 15W-40. With its low levels of sulfates, this oil has low emissions and yet can protect your engine under severe stress. It maintains high levels of vyscocity even under extreme temperatures and is able to prevent deposits, reduce corrosion of crucial components, and minimize your engine's oil consumption.
Due to its outstanding qualities, AMSOIL's synthetic diesel oil can provide superior protection for your diesel engine - whether you do off-roading or ship freight long distances. If you want to meet emissions requirements, improve fuel economy, preserve horsepower, and extend drain intervals, buy Max-Duty synthetic diesel oil from Vyscocity Inc today.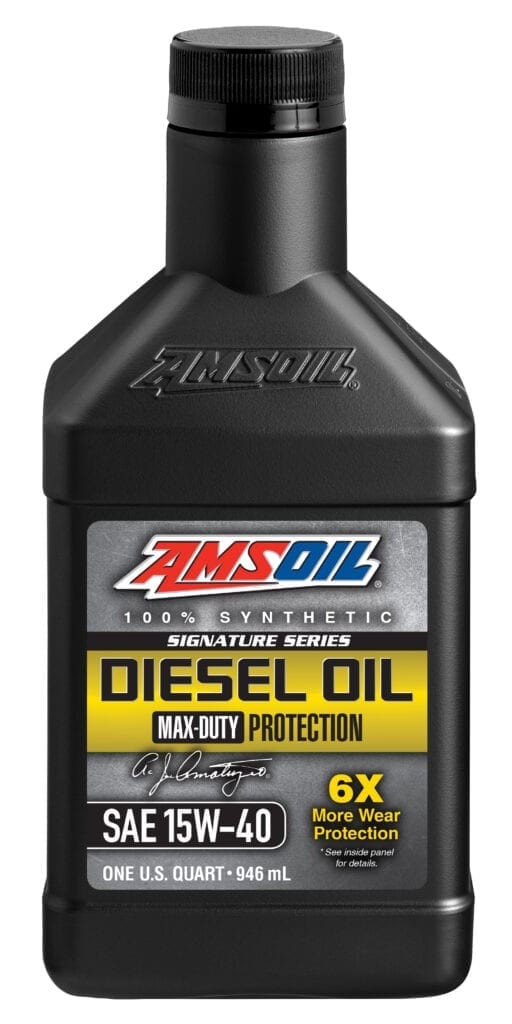 Signature Series Max-Duty Synthetic Diesel Oil
Whether hauling freight (and looking to send a pallet from the UK to Germany for instance), aggregates, crops, heavy equipment to a job site or towing your boat to the lake, you demand maximum performance from your diesel truck. But severe service quickly takes its toll, increasing heat and inviting harmful sludge formation and wear. AMSOIL synthetic lubricants have been designed to withstand the challenges unique to diesels.  This helps you get thousands of miles of trouble-free service from your truck.
Make The Most Of Your Turbo Diesel Truck
Help Reduce Maintenance Costs
Extend Engine Life
Save Time & Money
Signature Series Max-Duty Synthetic Diesel Oil is the most advanced formula offering 6X more engine protection*.  It is compatible with all exhaust treatment devices.  It is available in 5W-30, 0W-40, 5W-40, 15W-40 and now, 10W-30
The Benefits Of Max-Duty Synthetic Diesel Oil
More Built-In Protection
AMSOIL synthetic diesel oils provide excellent wear protection, delivering the following benefits:
Extended engine life
Maximum horsepower
Improved fuel efficiency
Lowered oil consumption and downtime
Protects Against Rust
Signature Series Max-Duty Synthetic Diesel Oil provides up to 2X better rust protection.*
*Based on industry standard testing using the NMMA FC-W Rust Test
Excels at Extreme Temperatures
AMSOIL Signature Series Max-Duty Synthetic Diesel Oil resists thermal wear and tear better than other conventional synthetic diesel engine oils available on the market. The AMSOIL synthetic diesel oil doesn't contain wax, allowing for it stay fluid in sub-zero temperatures which makes starting your engine easier in colder weather.
Keeps Turbos Clean
Signature Series Max-Duty Synthetic Diesel Oil provides protection boosted to the max,delivering up to 60% better turbo cleanliness* and withstanding the extra demands you place on the turbo when pulling heavy loads or updating the tune for maximum horsepower.
Preserves horsepower
Meets emissions requirements
*Based on specification standards of CAT C13 2nd ring top land carbon testing
Minimizes Oil Consumption
AMSOIL Signature Series Max-Duty 15W-40 reduces overall oil consumption because of its low burn-off or volatility rate. While your vehicle is running, less of the synthetic diesel oil vapour passes into the combustion chamber. As a result, our synthetic diesel oil provides up to 70% less oil consumption that other synthetic oil brands based on the Caterpillar-1N oil consumption test.