Guide to AMSOIL Diesel Oil 15W-40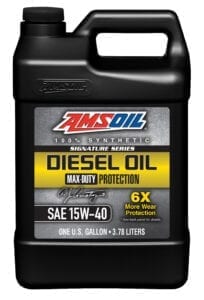 Benefits of Using AMSOIL Diesel Oil 15W-40
With AMSOIL Diesel Oil 15W-40, you can get the most out of your diesel engine without breaking the bank. Learn about the benefits of this oil and how to use it properly with our comprehensive guide to AMSOIL Diesel Oil 15W-40!
AMSOIL Signature Series Max-Duty Synthetic Diesel Oil 15W-40 is designed to provide optimal protection and performance for hard working diesel engines operating in the most demanding conditions. Formulated with synthetic base oil and premium additive technology, Signature Series Max-Duty Synthetic Diesel Oil delivers maximum wear control, longer drain intervals and fuel efficiency that helps reduce service intervals and extend engine life. This oil is tested and proven in industry tests to operate in both on highway and off highway diesel applications.
- Keep your diesel engine running strong in even the harshest working conditions.
- Get more miles per gallon of fuel with better fuel economy.
- Reduce downtime by prolonging engine life with longer oil drains intervals。
- Give your engine the best possible protection against wear and tear over time.
- Maximum wear control
- Longer oil change intervals
- Superior protection
- Enhanced fuel efficiency
AMSOIL Diesel Oil 15W-40 is a great choice for anyone looking to get the most out of their diesel engine. It's designed to improve engine performance, reduce wear and tear from fuel deposits, and maximize fuel efficiency. In addition, this oil is formulated with advanced technologies that protect against oxidation and corrosion caused by high temperatures and tough conditions.