Big Protection for Smaller Diesel Vehicles
New AMSOIL 100% Synthetic Diesel Oil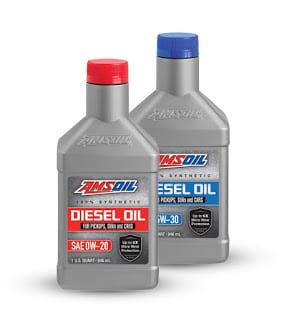 AMSOIL Synthetic Diesel Oil provides outstanding protection, performance and fuel economy for smaller American diesel pickups, vans, cars and SUVs. It delivers up to 6X better wear protection than required by a leading industry standard.
AMSOIL synthetic diesel oil has outstanding protection during heavy use and abuse and in extreme temperatures.  It also helps extend engine life and reduce maintenance costs and downtime. Helps maintain power and fuel efficiency for superior engine performance. Outstanding turbocharger and emissions-system protection. Superior engine cleanliness. Minimizes oil consumption. Meets or exceeds the latest specifications for smaller diesel vehicles
You can use it in diesel pickups, vans, cars and SUVs that require any of
the following specifications:
0W-20 (DP020): GM dexosD
5W-30 (DP530): GM dexosD, dexos2; Chrysler MS-11106;
Ford WSS-M2C214-B1; ACEA C3
Not for use in applications that require an API CK-4 (or prior)
specification.
*Based on third-party testing in the OM646LA cam wear test using 0W-20 as worst-case representation